Afonso Castro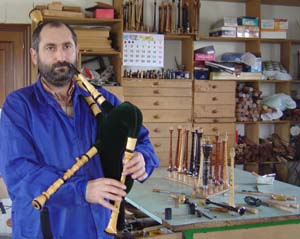 It initiates in the art of touch the bagpipe of self-taught way , in the long campaigns that it passed on the high seas, on board a freezer boat, there by the year 1981.
Already in the 1983 it begins their formation in the construction of musical instruments in the "Obradoiro-Escuela de Gaitas e Zanfonas da Universidad Popular de Vigo" From the hand of the master craftsmen Antón Corral, Ramón Casal and Carlos Corral.
Three fundamental years in their evolutionary process that gave with the opening of their own workshop in the year 1986, initially seated in the native village of A Guarda and in the year 1989 move to their current installation in O Rosal
From the beginning carries out an investigation work and improvement of the face bagpipe to improve their sound and tuning, their end is centered in the attainment of an instrument of a special quality, so much in the materials used as in the obtaining of the best sonority and stability.
as result of this work at present is manufacturing a scale cromatica safer, fine-tuned and expanded
Another important attainment is do bagpipes that can touch so much in enclosed as in open (to see fingering)In an attempt to facilitate the recovery of this last fingering.
To facilitate the work of the bagpiper, modified the tonalities so that they use the same size of chanter reed (C, B, Bb and A They use the chanter reed standard of C) and (D, Eb and E they use the same chanter reed of C reduced 1,5mm)
In December of 2012 takes out the valve of drone, piece that gives solution to the problems of synchronisation of the drones with the chanter so much to the comienzar to sound as when finishing the interpretation and that improves the variation of the drones.
As gaiteiro is component of "OS CARBALLAS" of O Rosal and of group folk "DEIXANDAR" also of O Rosal.
---